Shamanism Workshop Paloma Cervantes

Shamanism Workshop Paloma Cervantes
There are many workshops about Shamanism out there. What I discovered is that when a person that has taken Shamanic workshops before joins our groups, usually that person has lots of knowledge in Shamanism but his or her practice is weak or poor.
To compensate that, we designed a workshop in which the main emphasis is making the students self-sufficient in Shamanic practices. In this way, the student does not need to rely on a group for practices. Although we have groups that practice often, it is a very important part of a practitioner of Shamanism to be independent and  successful in the practices.
WHAT IS A SHAMAN? It is known that a Shaman is a person who has the ability to see and spirit travel to the Spiritual World at will becoming a bridge or a messenger between the physical world and the Spiritual World.
HOW DOES THIS HELP? One of the primary guiding principles for the Shaman is that any problem, illness, or disharmony in the physical world relates directly to the soul and to energy.  Therefore, problems of the soul or energy can be treated in the Spiritual World.  The healing that takes place in the Spiritual World is reflected in the physical world.  The role of the Shaman is to bring back pertinent information to the client, work in the Spiritual World to heal a person's soul, and thus assist healing on the physical, energetic, emotional, and mental levels.
WHAT IS THE ROLE OF THE SHAMAN IN THE MODERN WORLD? In this millennium a Shaman is not usually the spiritual leader of their community as it was in ancient time.  A modern Shaman is working on behalf of her/himself, family, pets, household, friends, community, and ultimately globally.  In some circles the term "I am a Shaman" is frowned upon.  This is strictly a personal choice in the topic of "labeling".
IN OUR WORKSHOP
Each person will have an individual ceremony to awaken and accelerate shamanic abilities
During this workshop, the focus is to master the shamanic techniques so when you go home you can practice by yourself
Also after the workshop, you can join our private group that meets often to practice what we learned in this workshop and new techniques as well
We will learn and practice the basic shamanic techniques so you can empower your live and your spiritual practice.
THIS IS A TWO DAY WORKSHOP
Day #1 Saturday
Time: 9:30 am registration, smudging and tea
Class: 10 to 12
Break: 1 hour for lunch and for resting and to "absorbing" what learned in the morning
Class: 1 pm to 4 pm
Day #2 Sunday
Class and Individual Initiation Ceremony: 10 to 3 pm
Shamanic Ceremony and Feast: 3 to 4 pm. Regular Shamanic students and practitioners join the new Shamanic practitioners to welcome them and to celebrate Shamanism with a ceremony and a potluck
FOR MORE INFORMATION
*Send and email to hola@palomacervantes.com for details about dates, location, cost, what to bring, how to book, how to dress, etc. We offer Advance Shamanism Workshops too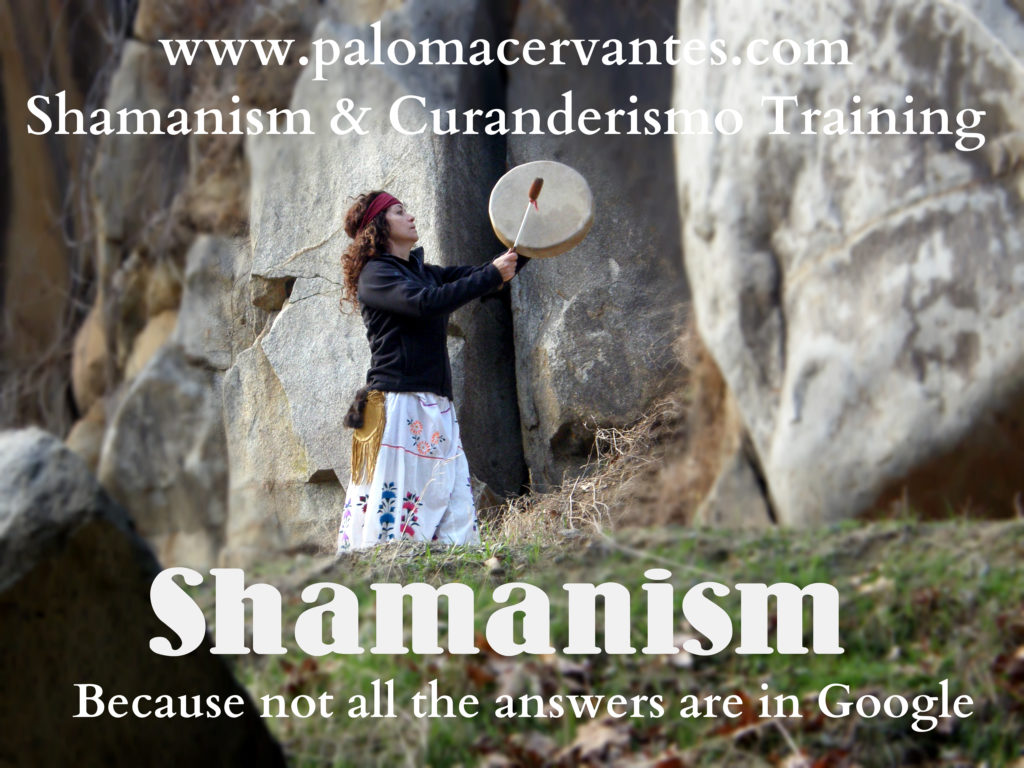 Instructor: Paloma Cervantes. She is a Mexican Shaman or Curandera born and raised into the tradition. Working as a Curandera since 1986.  She writes and teaches about Shamanism, Curanderismo, Spiritual Herbalism and Ancient Healing Traditions. She offers private consultations too.