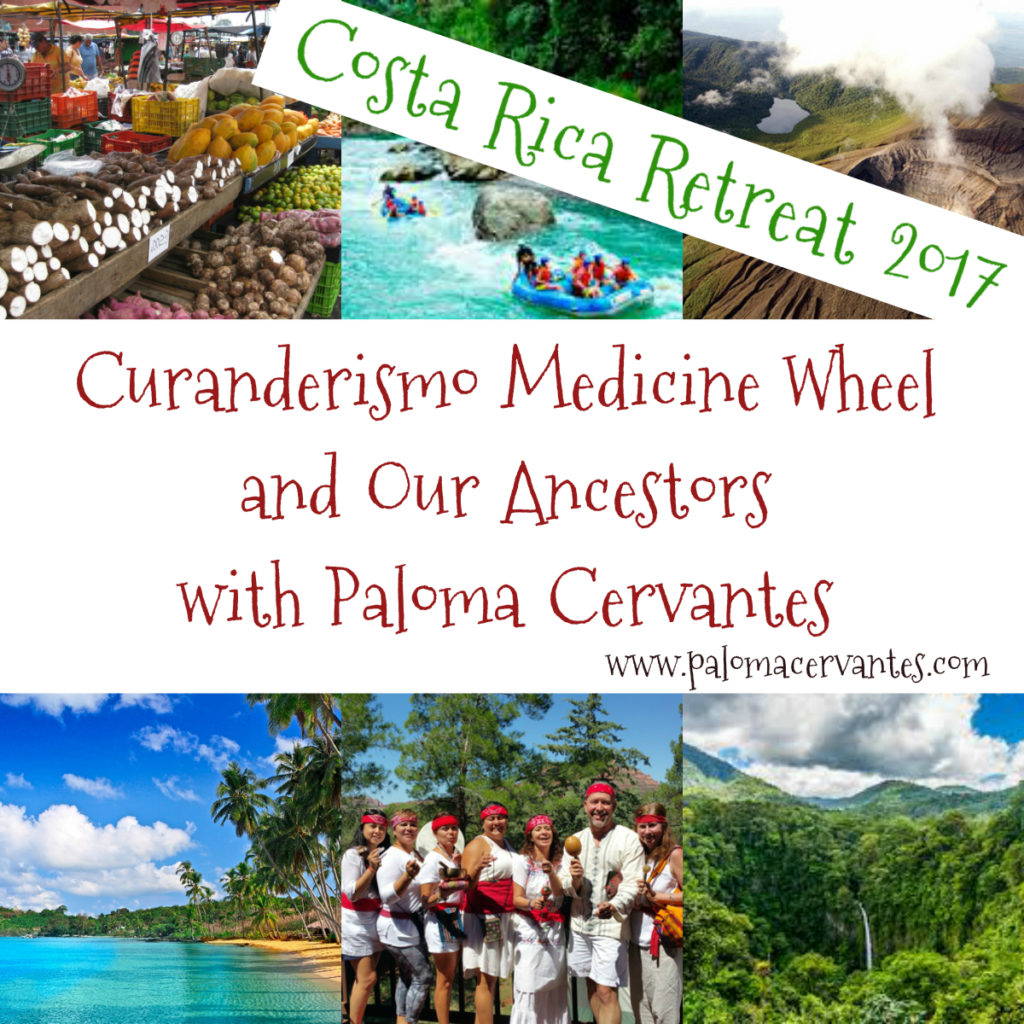 Costa Rica Retreat 2017
Curanderismo Medicine Wheel
and Our Ancestors with Paloma Cervantes
This is a great combination a beautiful trip to a beautiful place plus a Curanderismo workshop
Spiritual Retreat Details
Retreat type: Spiritual Workshop
Retreat name: Curanderismo Medicine Wheel and Our Ancestors
Instructor: Curandera Paloma Cervantes
Dates: September 2 to 9, 2017
Place: Costa Rica
8 days round trip
---
For this trip we have different options:
– Spiritual Retreat and travel package
– Another option is to book your own hotel and flight. Pay for your own expenses as you go and pay for workshop on August 15 2017
Spiritual Retreat and travel package:
Airfare round trip from Los Angeles, CA Airport to San Jose, Costa Rica. This includes taxes and one standard checked baggage
Shuttle round trip from San Jose city to our hotel and back. Microbus, bilingual Costa Rican guide, ferry boat and tip
8 days – 7 nights accommodations in a eco-friendly hotel at the beach
4 dinners at a local restaurant
Transportation and fee to Cabo Blanco National Park
All day tour to Isla Tortuga. Boat, snorkeling gear, lunch at the island and optional scuba lessons or scuba for certified divers
Gratuities for local guides
Package

 

doesn't

include:
Extra checked baggage (airplane)
Meals other than the specified above
Beverages
Items of personal nature
Travel insurance
Extra activities
Accommodations
We will stay at a small eco-friendly resort at the beach neat Montezuma town in the Pacific Ocean. We are reserving several rooms and a villa with kitchen. We will have shared and private rooms. All the rooms have a beautiful view to either the ocean or the river. The workshop is going to be mostly outdoors but when it is indoors is going to be at the villa.
Meals
We have different options: We have a discount in a local restaurant. Meals are 6 to 8 dollars with tip included. The price depends on your appetite. You can also cook your food at the villa, eat at the restaurant in the hotel or in the restaurants at Montezuma which is a 10 minute walk from the hotel. We are planning to have at least breakfast at the villa. The restaurant can also pack your lunch is we are going to be away from town
Extras
We will have a list of optional activities and trips like hiking, horseback riding, zip lines, photo expedition, snorkeling, scuba diving, shopping, massage, visit to wildlife refuges, etc.
We are working on prices for local transportation with local bilingual guide
You need a current passport. No visa is needed
If you want to book your own air flight let us know
Check with your doctor if you need immunizations
In case you are under any kind of medication please don't forget to bring enough
This trip and workshop is drug free. All our practices are done without the use of substances that alter the mind like alcohol or sacred/recreational substances. There are many paths for spiritual practices. Our path is a drug free path. Paloma is a Mexican Shaman or Curandera who does not use any hallucinogenic plants, brews, ceremonial tobaccos, etc. Please do not use these or cannabis in this trip and retreat
---
Workshop Details
Spiritual Workshop: "Curanderismo Medicine Wheel and Our Ancestors" with Paloma Cervantes. In this workshop we will learn how prepare a Medicine Wheel or Earth Mandala. This is used for Earth Healing, to mend broken places in our planet. We are also going to learn how to connect with our Ancestors and our Ancestral Legacy and how to use the Earth Mandala to prepare spiritual Medicine for people, animals and plants.
Spiritual Requisites
You must know how to protect and spiritual cleanse yourself

You must be an initiated practitioner in the Curanderismo Program with Paloma Cervantes. That means you are initiated in PF. If you are not, and wish to join us you can take the workshops needed before September
Curanderismo Practices recommended
If you wish to learn this before we go please contact me for class schedule.
El Aliento (breathing exercise)
El Corazon (Giraffe or open your heart)
El Balanceo (Chakra exercise)
How to dress for the workshop
Because we don't want to draw attention to us, you can dress anyway you want. We will have only one day with our Curandero Clothes. Bring just one set of Curandero dresses or clothes, if you have, if not dress in white. (We are ordering new dresses at our store). Wear sturdy hiking shoes or hiking sandals.
Spiritual Tools Needed
As soon as you book for the workshop and send your deposit, we will ship some Spiritual Tools that are included with the workshop and are hard to find. The rest of the list is going to be email with time so you can get the Spiritual Tools.
Workshop price
The price for the spiritual workshop:  "Curanderismo Medicine Wheel and Our Ancestors" is $700. This includes workshop, handouts and spiritual tools that are hard to find. Once you pay your deposit we will ship the spiritual tools.
Workshop agenda
Usually our workshops are long hours of studying and practicing, this is not the case for this one. Each day we will have class, practice, time to relax, and time to enjoy and explore Costa Rica. Click here to go to the workshop agenda
---
Price
– Students Spiritual Retreat and travel package: $1,700 to $1900. The price depends if you are staying in a private room or sharing. The workshop payment is due on August 15, 2017
–  Note: We inflated the prices a little bit like 10 to 15 dollars here and there to have that money as a cushion in case something happens. At the end of the retreat we are going to see how much money we have left and returned to you guys or we will go out for dinner as a group
– Send your checks to: Curandero Products. 4974 N Fresno St. Suite 106C, Fresno, CA, 93726-0317. USA
Travel Package Deposit and Payment:
Travel package deposit: $300 due May 15 to save your place in our trip. This is a non-refundable deposit. This money goes towards hotel reservation. It can be paid by check or cash. To pay by check make checks payable to Curandero Products and mail them to 4974 N Fresno St. Suite 385, Fresno, CA, 93726-0317. USA
The balance for the travel package: It is due at the end of June because because we need to pay our airfare as a group, hotel and our shuttle fee otherwise we lose our price.
Workshop Deposit and Payment:
Workshop Price: $700 for workshop, handouts and some spiritual tools
Workshop Deposit: A non-refundable deposit of $110 is due at the end of July, 2017. As soon as we receive this deposit we will ship your spiritual tools that are hard to find and a list of the rest of materials and spiritual tools needed
Workshop Balance: due in August 15, 2017
---
Questions??? Contact us at hola@palomacervantes.com
[/hcolumns]
Paloma Cervantes is a Mexican Shaman or Curandera born and raised into the tradition. Working as a Curandera since 1986. She writes, teaches and practices Shamanism, Curanderismo, Spiritual Herbalism and Ancient Healing Traditions. Visit her website www.palomacervantes.com. Send her an email hola@palomacervantes.com